Reading time: 2 – 3 minutes
Uuugghh… I am sick.
I have some kind of flu or severe SEVERE cold. The coughing I have endured has caused my ribs around the back of my body to ache beyond belief. Today I decided to check and I can't tell if it is my imagination, but I can swear that my skin is showing bruising along the sides of my torso. The pain is excruciating. I am taking 4 different drugs to help reduce the symptoms and aching. I have never taken drugs like this before. I am in a rare state, that is for sure.
I finally went on my first date since my breakup. I went out with the cutie who everybody refers to as my "wigger".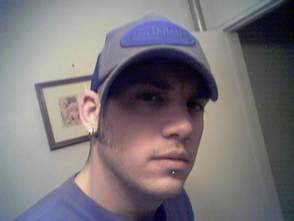 "wigger boy" (posted with permission)
The interesting thing is that we have absolutely nothing in common, he is antisocial, he hates my music, my tastes, my lifestyle, is impatient, distracted, comparatively superficial, very emotionally young, cynical, defensive, he eats animals,… basically he is the very antithesis of me. Somehow, though, we actually had a very sweet time. We walked all over Brooklyn Heights, along the promenade, to the pier, back through the heights, down Smith Street, all over. He peppered the evening with surprise gestures of affection and overall, we both had a great time.
Unfortunately, because of his distractions and our lack of common ground, I doubt much will happen beyond this one meeting. He seems to think the differences make no difference, and as friends, maybe they won't, but as far as dating, that gap would be a big problem. Also, I am a very indulgant boyfriend, so I love to indulge in the other person and expect as much enthusiasm from my boyfriend to indulge in me. That includes healthy compromises, passionate open-mindedness, patience, and a deep, deep trust. I don't think I would find that in "wigger".
But who knows… he may prove me wrong across time.